5 Awesome Blog Post Ideas for Chiropractors
I'm about to say something that may surprise you: blogging will likely grow your chiropractic business. It's the 21st century, and digital marketing is a must. By publishing blog posts, you're expanding your advertising footprint.
Why Every Chiropractor Should be Blogging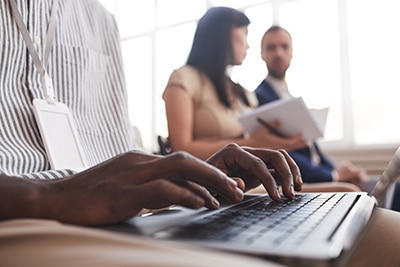 Blogging is an essential component of every successful online marketing plan. Ninety-three percent of the adult population uses Google and other search engines to find products and services. So it follows that websites with more quality content perform better in search results.
But volume alone doesn't equal success.
The Anatomy of a Good Blog Post
Effective blog posts are grammatically sound, SEO-friendly, and address questions and concerns of potential clients. Both humans and algorithms value quality.
Things to Do
Research keywords and elegantly incorporate them into your blog posts.
Edit and proofread your work before publishing.
Write about topics that potential patients would find interesting and informative.
Be creative!
Things to Avoid
Yes, use keywords — but don't over stuff your posts with them. Awkward reading is not a good experience for either human readers or algorithmic bots.
Personality and general information are encouraged; personal details and opinions are not. Novice business bloggers sometimes make the mistake of sharing too much information, which alienates potential clients. Follow your mother's advice and leave politics and religion locked away in the don't-blog-about closet! These days, you should even stay away from certain medical topics, like vaccination.
Don't be overly sensitive about your writing. Molding ideas into consumable paragraphs can be rough going. And sometimes, we don't do it as well as we think. So if you're starting a blog for your chiropractic business, enlist an editor. Even professional authors need them!
Try not to be super boring. 🙂
Five Blog Post Ideas for Chiropractors
We've talked about why chiropractors should blog for clients, then dove into some do's and don'ts. Now, let's look at five topics you may want to write about when starting out.
Welcome to Our Chiropractic Office: A good first blog post is one about your office, the team, and your treatment philosophy.
Top Five Benefits of Chiropractic Adjustments: Explain to potential patients how going to a chiropractor can improve their well-being.
Top Five Things Chiropractic Care CANNOT Fix: People appreciate honesty, so give them some! When they do have an ailment that can benefit from chiropractic care, they'll likely remember you.
Chiropractic Adjustments During Pregnancy: Pregnant people crave knowledge about what they should and should not be doing. Write a post that outlines how your services can benefit their special time.
Top Five Success Stories: Brag a little! Enlist five satisfied patients who are willing to reveal how your care helped them.
Connect with a Chiropractic Content Writer
Rounded Digital is a full-service online marketing firm with a dedicated SEO team. Our SEO content writing experts and stable of writers are passionate about creating quality articles, scripts, infographics, and blog posts that work. Rounded Digital also provides chiropractic website design services. Alternatively, if you want to blog but need a hand developing a plan, we also work with chiropractors on content calendars. Contact us for more information or to get started! Call 720-507-7360.